Artists authenticity declaration:
Herewith I declare that the above named Prints are made from Original Painting of my own production.
Produced painted at my Studio in Gisborne and Printed in Melbourne, Victoria, Australia.

Copyright © 1998-2011 by Peter Gerasimon
Reproduction of this painting or print is strictly prohibited. All rights reserved.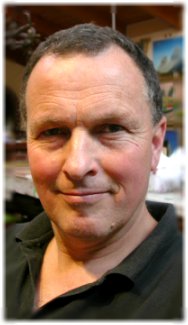 Peter Gerasimon's Oil Paintings cover a wide range of subjects. You will find here Portraits, Paintings of Animals, Wildlife Paintings, Oil Paintings of the Australian Country Side and Bush, Landscapes, Architecture Oil Paintings, City Paintings, Oil Paintings of Sydney and Melbourne, Aviation Paintings, Maritime Scenes, Ships, Boats, Paintings of Trains and Trams and much more.

His style is Realism & Impressionism. Some acrylic paintings and limited edition prints about "The Melbourne City Scene" are also on display.
Exciting are the stories of places people have created and their constant aim to re-shape, preserve and improve to meet certain visions and dreams. My aim is to capture the present reflecting the nostalgic essence of the times gone by.
Peter Gerasimon
Paintings of the present with a touch of nostalgia
Over 150 paintings on Exhibit on